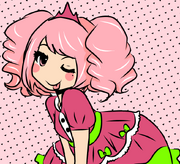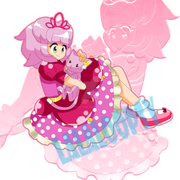 Personality
Edit
Jewel Sparkles is the most graceful princess in all of Lalaloopsy Land. She is highly cultured in the finer things in life, from art to dance. She owns the largest collection of tiaras in the land and she loves teaching her friends about etiquette and poise. She enjoys the spotlight and seeks attention whenever she can get it.
Appearances
Edit
She appeared in every episode along with the 8.
Relationships
Edit
She loves her kid sister, Trinket and her pet cat. Her evil cousin is Cruel Sparkles.
Many times, Trinket wants to do messy activities with other Lalaloopsies, but Jewel doesn't let her, making Jewel somehow overprotective.
She has a popular group called The Best Friends Group. She also formed a club called The Princess Club. 
She has a crush on Patch Treasurechest. It is hinted that she also has a liking to Sir Battlescarred.
Her parents were the King and Queen of Lalaloopsy Land, but they died in a war.