Mittens Fluff N' Stuff is a main character in the series.
Personality
Edit
Mittens is snuggly and warm and enjoys a warm cup of cocoa once in a while. She has great knitting skills and know how to make anything from scarves to fuzzy hats! She has a strange control over snow, and that is why it's always snowing around her!
Appearances
Edit
She appears in every episode along with the Original 8.
Relationships
Edit
Family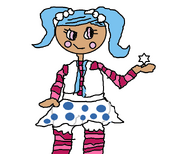 She loves her little sister, Bundles.
Friends
She's friends with the Original 8, and has cool friends like Ivory and Swirly.
Romance